Lady Mar has sat as a cross-bencher in the House of Lords since 1975.  On the passing of the House of Lords Act 1999 she was elected to serve as one of the ninety-two hereditary peers retained in the House.

She has held a number of positions within the House of Lords:
Deputy Speaker/Chairman of Committees 1997—2007, 2009—2012, and 2014—
Select Committee on European Communities Sub-Committee C (Environment, Public Health and Consumer Protection) 1997—1999
Select Committee on European Union Sub-Committee D (Environment, Agriculture, Public Health and Consumer Protection / Environment and Agriculture) 2001—2005
Joint Committee on Statutory Instruments 2008—2011
Member of the Delegated Powers and Regulatory Reform Committee of the House of Lords May 2013-2016
Lady Mar is joint Chairman of the All Party Parliamentary Group (APPG) for Agroecology; Vice Chairman of APPG for ME; Vice Chairman of the Parliamentary Food and health Forum.
She has also held a variety of non-political offices:
Member of the Immigration Appeal Tribunal 1985-2006
Chairman, Honest Food 2000-2005
Chairman, Environmental Medicine Foundation 1997-2003
President, Guild of Agricultural Journalists 2007-
Patron, Dispensing Doctors' Association 1985-1986
Patron, Worcester Mobile Disabled Group 1991-2003
Patron, Gulf Veterans' Association
President, Elderly Accommodation Counsel, 1994-
Honorary Associate of the Royal College of Veterinary Surgeons 2006—
Honorary Associate of the British Veterinary Association 2007—
Chairman of Forward-ME 2009—
Patron, Edith Ellen Foundation since 2015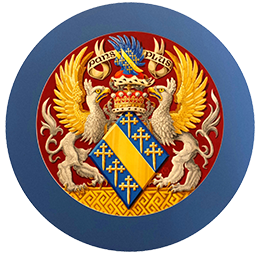 ARMS
Azure, a bend between six cross-crosslets fitchée or.  Crest — Upon a chapeau gules, furred ermine, two wings each of ten pen feathers, erected and addorsed both emblazoned as the shield.  Supporters — Two griffins argent, armed, beaked and winged or.  Motto — Pans plus (Think More).
The digital image of Lady Mar's armorial achievement is taken from the original painting, which she commissioned in autumn 2013.  The artist is Mark Dennis, Advocate, Ormond Pursuivant of Arms, who is author and illustrator of the handbook Scottish Heraldry: An Invitation, first published in 1999 by The Heraldry Society of Scotland.
GARIOCH PURSUIVANT OF ARMS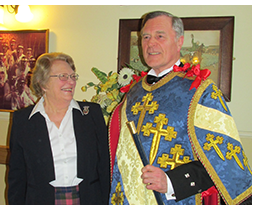 On 7 January 2013 The Countess of Mar, Chief of the Name and Arms of Mar, appointed as her private Pursuivant  her brother-in-law Lt-Cmdr  Laurence of Mar, MA, ATCL, FSA Scot, FRSA. 
In Scotland there are only three other privately appointed Pursuivants of Arms: Slains, Endure, and Finlaggan, who serve respectively The Earl of Erroll (Chief of the Name and Arms of Hay), The Earl of Crawford and Balcarres (Chief of the Name and Arms of Lindsay), and The Lord Macdonald (Chief of the Name and Arms of Macdonald).